Get a Great Smile
This is an awesome place to go for both kids and adults. A huge THANK YOU to Dr Patel and his staff for the excellent service they provided me. You're the absolute best!
5
He is the best orthodontist in the area. Love his staff at the Keller location. Both my teens have had minor emergencies which were taken care of on the same day of occurring. Christeen is an Angel, opened up the office in Keller after hours (after her long day of work) to take off the wires & brackets that were attached to my daughters baby molar that fell out while eating a snack. Long story short, Christeen met us at the Keller location at 6:30 pm and took excellent care of my 13 year old. What an absolute angel, a true asset. My kids love their doctor & the entire staff is wonderful 🙌🏻👏🏻🙌🏻
5
The most wonderful experience! Three of us see Dr. Patel and the staff are amazing. My kids have autism and they are the most loving environment. 💕
5
We love Dr. Patel and his staff! They are very personable and always explain everything in simple terms. They are quick and efficient and very accommodating. So glad that we chose this practice! And we love Sara's playlists:)
5
110% awesome! Dr. Patel is a brilliant & caring orthodontist that truly enjoys helping his patients reach their best bite/smile. The staff is nothing but positive & the respect they have for each other as a team does not go unnoticed. Always clean, short wait times, and easy appointment scheduling.
5
Confident Smiles Made Daily
Our office offers a breadth of services to meet your needs. Check out the overview of our services listed below or book a consultation to discuss which services are best for you.
Treatments
Braces
Invisalign® Aligners
Smile Express®
Retainers
Our Team
You can have it all!  We work with patients to achieve their full smile potential by creating exceptional experiences provided by rockstar team members who help to deliver awesome outcomes every day.  Confident smiles are made daily at Smile Doctors.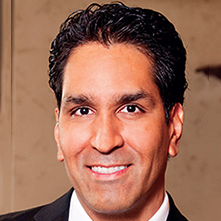 Dr. Anurag Patel
Anthony Patel enjoys sharing the journey of creating a beautiful smile with his patients and believes it is the most rewarding profession.
Patel attended the University of Illinois at Chicago as an undergraduate and went on to earn his Doctorate in Dental Medicine and Master of Science in Education, concurrently, from University of Pennsylvania in Philadelphia.
Later, he was sworn in as a Lieutenant and received his Advanced Education in General Dentistry certificate at the Naval Dental Center at Great Lakes, Illinois. Upon completion of his active duty military commitment, Patel attended the University of Texas Health Sciences Center at San Antonio where he received his specialty training in orthodontics and was selected as Chief Resident.
Outside of the office, Patel can be found spending time with his family, coaching Southlake baseball games or traveling with his sons to different cities to watch the Chicago Bears.
I can't say enough about this place words can't describe how much I like this facility. I will never take my kids anywhere else they are just so patient with my kids especially Sarah. Dr. Patel explains the process so well and is willing to take all the time you need to answer questions.
–

Timothy Horan
Such a great staff! Everyone is so friendly and very professional. They really care about their patients and the progress of their orthodontic care. Another bonus is their multiple locations, the office in Haslet is so convenient to where we live and where my daughter goes to school, it just makes it so easy! We definitely recommend Dr. Patel!
–

Lupe Garcia
The professionalism and friendliness of the whole team is outstanding. I've been going to them for a complicated process. No matter the issue, they take out the time to make sure everything is ok. Every visit is like visiting friends. I couldn't be happier with the results. If you are looking for an Orthodontist give Dr. Patel a call!
–

Megan Plyler
Great office, friendly staff, I highly recommend them!
–

Brittnee Zook
We have had a child in braces with Dr. Patel now for 10 years. For a short period all 3 of my kids had them at the same time. I can not say enough about his practice. The front office is so kind and personable. His team is the best. You can tell they like their job. That starts from the top! Dr. Patel takes care of his staff and make them feel appreciated. In turn his staff shows that to everyone that walks through the door. If you or someone in your family is in need of orthodontic care know you are in excellent hands here.
–

Kristin Schaefer Pearce