Get a Great Smile
Leni is the absolute best!!! I moved to this office because of a realignment. It would have been nice if the patients were given better heads up of what was going on rather then hey we need to change your date. As a patient I want to see only Leni and unless she quits I will. However not everyone is as assertive as I am. Desoto office 5 star service, great music, super friendly orthodontist. UPDATE: Both my children had their braces done with this company and I do refer anyone that asks to you guys! 🙂
5
Marcy and Dr. Tongco are amazing. We always get the best care when we go. They have become like family. Thank you!
5
Staff was extremely professional and very inviting. They were easy to talk to and were very helpful with providing information needed for my daughters braces. I highly recommend. Not to mention the price of the braces was the best I have seen.
5
—Excellent.Would definitely recommend to everyone!
5
Friendly experience, quick and courteous.
5
Confident Smiles Made Daily
Our office offers a breadth of services to meet your needs. Check out the overview of our services listed below or book a consultation to discuss which services are best for you.
Treatments
Braces
Invisalign® Aligners
Smile Express®
Retainers
Our Team
You can have it all!  We work with patients to achieve their full smile potential by creating exceptional experiences provided by rockstar team members who help to deliver awesome outcomes every day.  Confident smiles are made daily at Smile Doctors.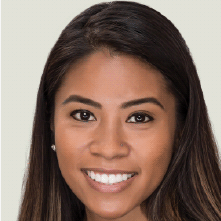 Dr. Irish Abigail Tongco
Irish Abigail Tongco strives to create beautiful smiles that bring confidence and happiness to her patients' lives. "I hope to foster a team relationship with my patients that makes them feel like they are part of our Smile Doctors family."
Tongco received her Bachelor degree from the University of Florida College of Agriculture & Life Sciences and went on the earn her Doctorate of Dental Medicine from University of Florida College of Dentistry. She then got her Master of Science in Dentistry and Certificate in Orthodontics from Saint Louis University Center of Advanced Dental Education. Tongco is also a member of the American Association of Orthodontist, American Dental Association and Texas Dental Association.
When she's not in the office, Tongco's favorite place to be is on the beach and enjoys staying active through CrossFit, rock climbing and dancing.
We have gone through a long process with my daughters braces, but the staff has been by our side the entire time and directed and adjusted the whole way through! Very pleased with the end results and braces are coming off TODAY!!!!!
–

Wendy Hernandez
Everything about them is the BEST!
–

Elondria Easterling-Woods
—Excellent.Would definitely recommend to everyone!
–

Isela Saldana
Love the service is great…my daughter loves to get in and out…we � the office staff!! Hope to get braces off soon
–

Jocqueline Letha Atkins-Carter
Very nice office people respectful friendly and very good job on my child's teeth
–

Diana Leal