Get a Great Smile
Such a friendly office! They don't pressure you into something that's unnecessary, they're courteous, and extremely patient. I would recommend this office to anyone! I live on the south side of Chicago, and thank goodness we continued to go to Lazzara after he left our primary dental office. Well worth the drive! Thank you doc! You did an AMAZING job on my sons teeth! 👏🏼👏🏼👏🏼
5
We had such a great experience today at the orthodontist. The office staff is very friendly and inviting. The Doctor we saw was very nice. He explained everything really well and answered all of our questions. So happy to have had such a wonderful experience with the orthodontist.
5
I would highly recommend Dr. Lazzara and team. They are very personable, accommodating and flexible with their schedule. They have met us in the office during off hours when needed. We have three kids with braces and they all loved Dr. Lazzara!
5
very good with kids. i never waited long on appointments
5
Can't say enough about how happy I am to have received treatment from Lazzara Orthodontics. Highly recommend.
5
Confident Smiles Made Daily
Our office offers a breadth of services to meet your needs. Check out the overview of our services listed below or book a consultation to discuss which services are best for you.
Treatments
Braces
Invisalign® Aligners
Smile Express®
Retainers
Our Team
You can have it all!  We work with patients to achieve their full smile potential by creating exceptional experiences provided by rockstar team members who help to deliver awesome outcomes every day.  Confident smiles are made daily at Smile Doctors.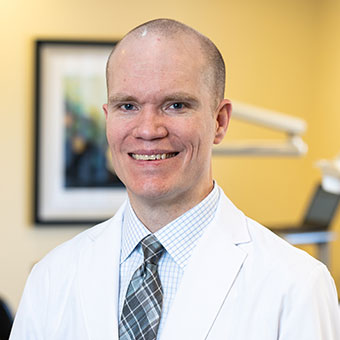 Dr. John Lippincott
John Lippincott is a native of the Aurora area, attending Hall Elementary and Washington Middle School before graduating from West Aurora High School. He received his Bachelor's degree from Brigham Young University. John received his Doctorate of Dental Surgery from the University of Illinois at Chicago, where he received several awards for academic achievement, leadership, and excellence in patient care. He completed his specialty residency training in orthodontics at the University of Illinois at Chicago, where he also received a Master's degree in Oral Sciences.
After his residency, John published his research findings in a respected orthodontic journal and has presented several lectures regarding his Master's thesis, including a lecture at the yearly meeting of the American Association of Orthodontists.
John is a member of the American Association of Orthodontists, the Illinois State Dental Society, the Illinois Society of Orthodontists, and the Aurora Dental Society. He recently completed a term serving as President of the Aurora Dental Society for the 2014-15 season. John is board certified to practice orthodontics in the state of Illinois and spends significant time each year in continuing education courses to ensure his patients receive a high level of orthodontic care.
John is a second-generation orthodontist, having practiced with his father, Gary Lippincott, for several years, an opportunity he cherishes to this day. John has loved being a part of the practice since day one, seeing every day how orthodontics can help children and adults enjoy a better quality of life. He also loves getting to know the patients and their families and doing whatever he can to make sure they are 100% comfortable in the office.
Outside the office, John likes to spend time with his wife Rebecca and their three children, Jack, Thomas, and Eliza. He also enjoys volunteering at church, reading, road biking, and traveling.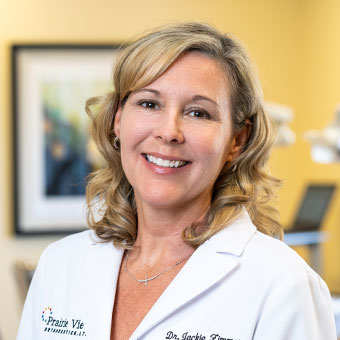 Dr. Jackie Zimmer
Jackie Zimmer graduated magna cum laude from Marquette University where she received her Bachelor's degree. She then continued her education at Marquette to receive an advanced degree in general dentistry followed by a two-year residency program to obtain her Master's degree and specialty certificate in orthodontics.
Zimmer is a member of the American Association of Orthodontists, the American Dental Association, the Fox River Valley Dental Society, and the Aurora Dental Society, where she served as president from 2001 to 2002. She has been the recipient of several academic awards and has earned membership in Phi Beta Kappa, Alpha Sigma Nu, and Omicron Kappa Upsilon. Zimmer is board certified to practice orthodontics in the state of Illinois. She also participates in ongoing continuing education to further improve her patients' experience.
Zimmer knew early on that she wanted to work with children. She finds that helping kids and adults gain self-confidence is the most fulfilling aspect of her job. She finds herself extremely lucky to a career she loves so much where she can directly improve patient's lives. She also puts great value in really getting to know the families over the years and forging friendships.
Zimmer is a proud wife to her husband Steve and is the mother of two children, Charlie and Caroline, and a miniature labradoodle, Vail. Outside of the office, Zimmer and her family love to travel and spend time outdoors. Together, they like to ski, swim, bike, play soccer, tennis and golf, and spend quality time together as a family.
Thank you so much for the excellent care you provided to Alyssa. Her teeth look wonderful!!!
–

Carrie Cryer Dalicandro
Honest, conservative with treatment, friendly, caring, well-organized
–

Patti Hodge
I highly recommend Lazzara Orthodontics! They make you feel like family when you're in the office and their results couldn't be better. They really care about their patients. Both of my children love going in to see everyone. To top it off, they are very affordable.
–

Nanette Gallon
Very friendly & efficient! Great experience!
–

Maggie LaFleur
Dr. Lazzara was wonderful when working with me and my braces. He always worked around my schedule and figured out what good times were best fit for my needs. The people that work there are all nice and comforting. I was nervous before getting my braces, wondering if it would hurt or if something would go wrong. Dr. Lazzara took little steps and after each one he asked if I was doing good, that was reassuring because he does want to know if you are in pain or doing great. It was smooth getting my braces on and they went over what I could and couldn't have to eat. Sadly I didn't eat candy for 8 months but it's ok, I survived. Other people try to scare you when they hear all the rumors about how it hurts when getting your braces off. When I was waiting to get them off I was terrified. But it was nothing. They just snap right off and you don't feel a thing. The staff was thrilled when I got them off and they gave me a bag of candy! I have never been so happy to get sweets! They gave me a short celebration and I was off. Thanks Dr. Lazzara!
–

MacKenzie VanDerSnick