Get a Great Smile
My daughter has had a great experience with Aspire and got her braces off today, her smile is so pretty
5
I love love love love Lynn! Aspire is the best place ever!
5
My daughter had an issue after her oral surgery. We made an emergency visit to Aspire to see what was wrong. Nina treated my daughter that morning and did a wonderful job. We ended up having a second round of oral surgery on one particular tooth and Nina was so kind to my daughter and walked us through everything that needed to happen and took such good care of Chloé. After surgery, Nina made sure she was assigned to Chloe when she came back to have her wires re-attached. Thank you Nina for being so awesome. Also, thank you to Alexis for handling all our crazy appointments. I appreciate it.
5
Very friendly staff! Very accommodating and very pleased that the braces went on the same day! Made it so much more convenient!
5
Never have a problem at Aspire. Everyone is helpful and very quick. We have been coming to Aspire Orthodontics for over a year and we are fans!
5
Confident Smiles Made Daily
Our office offers a breadth of services to meet your needs. Check out the overview of our services listed below or book a consultation to discuss which services are best for you.
Treatments
Braces
Invisalign® Aligners
Smile Express®
Retainers
Our Team
You can have it all!  We work with patients to achieve their full smile potential by creating exceptional experiences provided by rockstar team members who help to deliver awesome outcomes every day.  Confident smiles are made daily at Smile Doctors.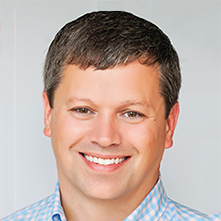 Dr. Michael Weathersby
Michael Weathersby is a Tennessee native with a vision to provide a fantastic experience and make a difference in patients' lives.
Weathersby earned his undergraduate degree from University of Tennessee in Chattanooga. He then attended University of Tennessee Health Science Center where he received his Doctorate of Dental Surgery and completed his orthodontic residency.
Weathersby is a Diplomate of the American Board of Orthodontics and founder of Smile It Forward, a community service initiative program where he awards nominated local students with free braces.
Outside the office, Weathersby enjoys spending time with his family and can be found traveling, camping, golfing or cheering on Tennessee football.
If you're looking for an orthodontist, look no further. Dr. Weathersby and his team are the absolute best! I'm a very particular and difficult patient, but they always make sure I'm happy with the progress my teeth are making. Wouldn't trust anyone else with my smile and recommend Smile Doctors to everyone.
–

sydney geren
We appreciate the first visit consultation Lynn our "tour guide" was very helpful and the doc was straight forward and patient!
–

Shannon Hickman McBrayer
Very awesome experience. Nina was fantastic!!!
–

Wesley Bohannon
Everyone was very happy and friendly we love it there
–

Amanda Carter
Went in for an Ortho exam and walked out with braces. The staff was extremely friendly, and everyone was informative and patient with all of my questions and concerns. Would definitely recommend.
–

Shawnta Morris