Get a Great Smile
Finding out that you need braces AND jaw surgery at 31 can be daunting to say the least, but I can't imagine going through this process without Dr. Nelson and his staff. They were helpful, fun, enjoyable, and incredibly supportive. I would still be in daily excruciating pain without the knowledge, expertise, and experience of Dr. Nelson. I can't say enough good things about everyone here. I'm actually going to miss coming here and seeing everyone!!!!! I'll be forever grateful.
5
My family has been under Dr. Nelson's exquisite care since 1987. My husband went to Dr. Nelson as a teenager, then me as a young adult and now our three girls. We absolutely love Dr. Nelson and his wonderful staff. The treatment we have received has always been carefully and thoughtfully planned out by Dr. Nelson and his team. Believe me, we have not always been just textbook cases. I required extensive upper jaw surgery and Dr. Nelson matched me up with a wonderful team of surgeons. He worked closely with these doctors to make sure that everyone involved was on the same page. My daughter also had some unusual circumstances and Dr. Nelson took his time to plan out the perfect treatment and it worked. All teeth are where they need to be! The staff is amazing and the office atmosphere is great. Always on time. I highly recommend Four Points Orthodontics.
5
Dr Santos is the best!! Professional, thorough and knows his subject very well. He really cares, made sure and corrected my bite! For me it is incredible how Invisalign works. He took his time to visit and not jump straight to my teeth. Thank you for everything. Great team, welcoming front desk people and dental techs, I am going to recommend him to everyone I know. Will post this review on yelp as well.
5
Great experience start to finish. Staff is extremely kind and Dr. Santos has been great with my kids. Would highly recommended them!
5
Many of my friends and their children have been treated by Dr Nelson, and I always heard rave reviews. After getting to know him in person, I felt confident he had a genuine interest in the health of my kids. He didn't rush us into treatment. Instead, he took a very thoughtful approach by observing their growth long enough to make the right decisions. We are nearing the end of orthodontic treatments, and things are turning out great. His staff has been first rate the whole way through, and the office is very organized and clean. I'm definitely a believer in Dr Nelson's honesty and ability to deliver an excellent orthodontic outcome.
5
Confident Smiles Made Daily
Our office offers a breadth of services to meet your needs. Check out the overview of our services listed below or book a consultation to discuss which services are best for you.
Treatments
Braces
Invisalign® Aligners
Smile Express®
Retainers
Our Team
You can have it all!  We work with patients to achieve their full smile potential by creating exceptional experiences provided by rockstar team members who help to deliver awesome outcomes every day.  Confident smiles are made daily at Smile Doctors.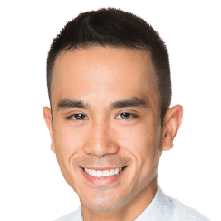 Dr. Giancarlo Santos
Santos was born and raised in Los Angeles. He decided to leave Southern California after receiving a scholarship to attend the University of Notre Dame. Here he graduated magna cum laude and received his Bachelor's degree in Biological Sciences.
Immediately thereafter, he returned to his home state to attend the University Of California Los Angeles where he received his Doctorate of Dental Surgery. After four challenging years, he graduated with honors and was inducted into Omicron Kappa Upsilon, the National Dental Honors Society. Passionate to continue learning, he then committed to three additional years of residency to specialize in Orthodontics and Dentofacial Orthopedics at the University of Pittsburgh.
Outside of life as an orthodontist, you can find him cross-training at the gym or running around parks and hiking trails with his yellow lab named Jax. He enjoys staying active and places incredible value on healthy living.
Had a lovely experience with Smile Doctors. Dr Santos was amazing! He took a lot of time to listen to my goals, concerns and explain my options to me. He was great at setting my expectations around the treatment plan, what would be expected of me, and when I could see real progress. He has always shown a genuine interest in my personal life and is so friendly. I'm nearing the end of my treatment and am excited to show off my teeth when covid ends! While this is my first experience with an orthodontist, I hope all orthos are like dr Santos. I leave with a smile (pun intended) every time! Highly recommend!
–

Johann de Sousa
Dr. Santos and his entire staff were amazing. They're always very friendly and very accommodating to any special request. Dr. Santos really cares and wants to make sure the final outcome is the best. Highly recommend Smile Doctors!
–

Samer Ghanem
Son muy buenos en su trabajo y lo mejor de todo la paciencia y amabilidad muy contenta 😌
–

Iliana Tupas
Dr. Santos is amazing. He was very dedicated and caring regarding my situation and I am very pleased with the service. Highly recommend smile doctors.
–

Manzur Rahman
I have had the pleasure of knowing Dr. Nelson for many years. In that time he has treated my family and many patients that I have referred. In my personal opinion his knowledge of orthodontics surpasses almost all other orthodontists in ways that are too numerous to review in such a short format as this. I am completely confident that anyone treated by Dr. Nelson will receive excellent and state of the art orthodontic treatment.
–

Maury Hafernik